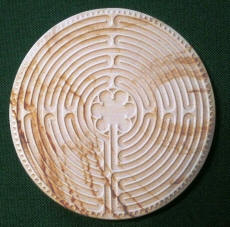 The Labyrinth Coalition
Labyrinth Event Calendar
Events are always being added.

Please let us know of annual, or special regional labyrinth events.

SUBMIT your regional/national or global events HERE

CLICK highlighted words for details
updated: 24-Mar-2010
click here for calendars maintained by: Veriditas The Labyrinth Society
May 1, 2010 -World Labyrinth Day - Walk as One at 1 - be part of the wave of peace moving across the face of the planet by walking in your time zone at 1 PM. No event too small. Sponsored by The Labyrinth Society
May 24-28, 2010 - Chartres, France: Living an Authentic Life: Walking the Labyrinth as a Spiritual Practice with Lauren Artress sponsored by VERIDITAS link
Global Labyrinth Month - June 2010 June is a month to celebrate, dedicate, appreciate and share the labyrinth and all it has to offer the World. Any where across the globe, any where in the world, labyrinths are being created, talked about and walked. plan your events now!
June 11-13, 2010 - 4th Midwest Labyrinth Gathering at Waycross Center www.labyrinths.org/waycross REGISTER NOW! Special Guest is Dr. John Rhodes, Chairman of the Labyrinth Society Research Committee! Faculty includes: Jo Ann Mast, Carlos A Smith, Lisa Moriarty, Kevin Ladd, Dhyana Raynor, & John Ridder
June 13-15, 2010 - Veriditas Labyrinth Facilitator Training / Refresher course - www.labyrinths.org/veriditas At Waycross following the MWLG . Sunday Dinner through Tuesday Noon June 13-15. The most comprehensive facilitator training offered... if you are a Veriditas Facilitator, consider this refresher to update you skills! taught by Jo Ann Mast, Veriditas Master Labyrinth Teacher
November 11-13, 2010 International Labyrinth Society Gathering, New Harmony, IN more info....